Payroll listings of 2014 earnings by employee name and position for eleven cities, seven counties and the Johnson County Parks and Recreation District are now available on KansasOpenGov.org.  The data is obtained each year through Open Records requests.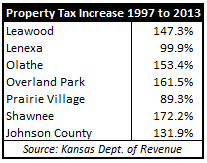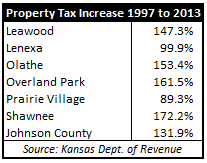 Kansas has more local government employees per 10,000 residents than all but one state (see page 16 here) and the cost of having so much local government is apparent in these payroll listings and the adjacent table of property tax increases for the largest cities in Johnson County and for the county itself. (A complete list of all counties and large cities can be found on pages 20-23 of the 2014 Kansas Green Book.)
The next table lists salary figures of city managers and assistant or deputy managers that we've collected in Johnson County. The variance in Pay per Resident for the 'CEO' positions is striking, ranging from $0.38 for the Johnson County Manger to $4.04 for the Lenexa City Administrator.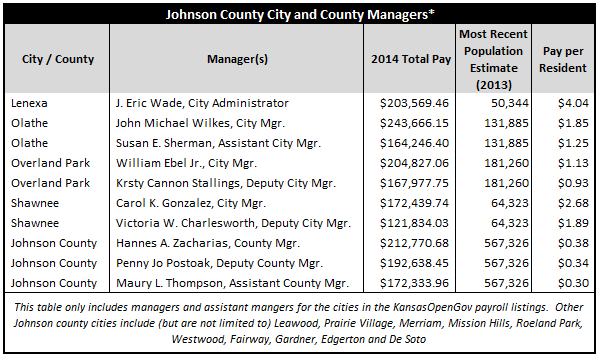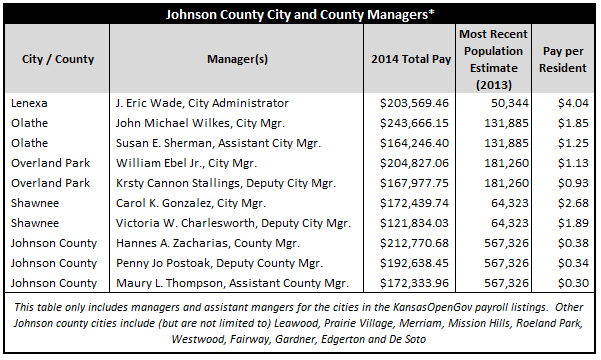 The growth rates of full payroll costs for some cities and counties also vary considerably.  The following tables show payroll growth rates between 2013 and 2014.  We don't have 2013 data for the Johnson County Parks and Recreation Department, but their 2014 payroll was $13,494,716.42.