School payroll listings totaling $2.1 billion for 31 Kansas districts are available for download at KansasOpenGov.org and the list includes 941 employees who were paid more than $100,000 during the 2019 school year.
Johnson County districts dominate the list of highest-paid employees, with 13 of the 25 slots.  Blue Valley has four slots, Olathe and Shawnee Mission have three, De Soto has two and there is one in Gardner Edgerton.  Sedgwick County, with four slots, is the only other county with more than one.
Retiring Shawnee Mission Superintendent Mike Fulton tops the list at just over $350,000. A few people on the school payroll list made substantially more than the previous year, and in a few cases are possibly related to sick leave buyouts or position changes.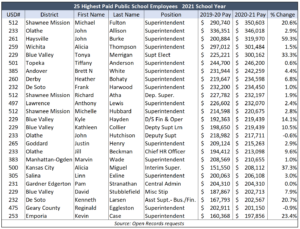 Kansas Policy Institute collects the data annually in Open Records requests and posts the results at KansasOpenGov.org.  Benefits are not included.

The number of employees paid over $100,000 set a new record this year at 941.  That's up from 838 last year and 679 in 2019.
Wichita, with 137 employees above $100,000 has the most, followed by Olathe (125), Blue Valley (124), and Shawnee Mission with 100.
There are likely many more school employees over $100,000 in Kansas.  This year's school payroll list includes employees in very small districts like Colby, Riley County, Attica, Southern Cloud, and Iola.
Payroll information has to be purchased from each district, so we expand the list over time.
It is difficult to identify some positions with certainty based on titles provided by districts, but there are at least 21 teachers who were paid over $100,000 last year.  Geary County had the most, with six teachers.  Blue Valley had four, there were three in Wichita, and Maize had two.  The districts with one each are Derby, Hays, Gardner Edgerton, Kansas City, Olathe, and Haysville.
Payroll listings at KansasOpenGov.org  go back to 2014.  All of the payroll information can be sorted and downloaded by district.