Her friends at the Cato Institute call Ethelmae Humphreys the grande dame of the libertarian movement.  Her business colleagues say she was the matriarch of the roofing business.  She was a cherished Advisor of the Kansas Policy Institute family.  To David, Sarah, and John, she was Mom.  The world lost an amazing woman when Ethelmae Humphreys died on December 27 at the age of 94.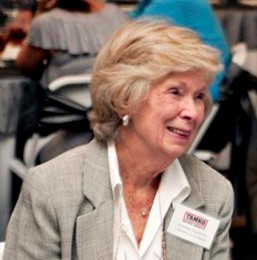 According to a release from TAMKO Building Products, "Ethelmae is the daughter of TAMKO-founder E.L. Craig, and she worked for the building products manufacturer since 1948.  She had been a consistent presence in the roofing industry for nearly three-quarters of a century."
"Ethelmae worked in the roofing shingle manufacturing business most of her life, starting by sacking nails in a Kansas City shingle plant and concluding with 73 years of service as Chairman Emerita at the company her father started, known today as TAMKO Building Products, LLC. Ethelmae was named executive vice-president and took control of the day-to-day operations of TAMKO in 1950, at the age of 23, after her father suffered a stroke. She succeeded in a predominantly male industry, confidently leading a major corporation as a 20-something woman in 1950s America, setting an example for women in the manufacturing and roofing industries.
"Ethelmae left full-time work at TAMKO in the late 1950s to care for her children with her husband J.P. (Jay) Humphreys taking the lead at TAMKO. She served as TAMKO's Chairman of the Board beginning in 1972 and returned to full-time work at the company in 1985. Ethelmae served as CEO after her husband's death in 1993, until the couple's oldest son, David, was named President and CEO the following year. In 2019, Ethelmae became Chairman Emerita passing the reins of Chairman to her son, David, and in that same year TAMKO celebrated 75 years in business. In 2021, she celebrated over 73 years of service with the company having continued to work on mostly a daily basis until the time of her death because, as she said: "TAMKO is like my home and I love my home. The office is where I feel the most comfortable. It's where I was the closest to my father, and then the closest to my husband Jay. It's been a major part of my life. I get the feeling of family closeness here and I'm proud of the organization and amazed by its growth and success."
David Humphreys, TAMKO Chairman and CEO, and son of Ethelmae said, "Throughout her life and career, my mother showed by example that family was the most important thing to her and that family values were foundational to the culture she helped to build at TAMKO. She was universally loved and revered by her family, employees and in the communities and circles of influence where she lived and worked. She was a measure of true grace and her compassion for others was unmatched. We mourn for our loss but we remain forever grateful for her presence in our lives and the lives of all those that she touched."
A post by Cato Institute President and CEO Peter Goettler says Humphreys' "many contributions to our mission and her vision for a free and open society will not be forgotten."
"When she stepped down from Cato's board of directors in 2017, Ethelmae's 35 years of stewardship made her the longest-serving director in the Institute's history. During that time, her leadership and generosity helped Cato grow more than thirty??fold: from an organization with a small budget and a handful of scholars to a leading policy institution whose ideas, influence, and impact reach millions of people worldwide. Her steadfast dedication to liberty and individual dignity are reflected in the reputation for integrity and adherence to principle Cato earned during her tenure as a director and continues to safeguard."
George Pearson of Wichita, one of Cato's original shareholders and a founder of Kansas Policy Institute, will miss his good friend Ethelmae.
"Ethelmae Humphreys had all the qualities of greatness – among them were achievement and modesty, class and humility, strength and caring, wisdom and common sense.  Simply put, she was a wonderful person."
Her passion for education and liberty made Humphreys an inspirational Advisor to the Kansas Policy Institute team.
Ethelmae will be greatly missed.