Results of our March 2016 SurveyUSA Market Research Study include some very clear messages for legislators on a number of education issues, which will force them to choose between citizens and the institutional demands of special interests.  Local school boards and unions vehemently oppose efforts to make school districts operate efficiently, with efficiency defined as providing the same or better quality service at a better price. They've testified that they should be allowed to spend more than necessary when they so choose and that legislators should increase taxes to give them more money.
Require efficient use of taxpayer money

But the people paying the bills – taxpayers – overwhelming disagree.  Kansans expect school districts to efficiently use their money by providing the same or better quality service at a better price, with 88 percent in agreement and only 9 percent disagreeing.  When a new school funding formula is designed, 73 percent say it should include some requirement that schools operate efficiently and only 20 percent say the formula should not require efficiency.  Citizens also say outside-the-classroom functions should be provided more efficiently on a regional basis, with savings put back into classrooms by a margin of 76 percent to 19 percent.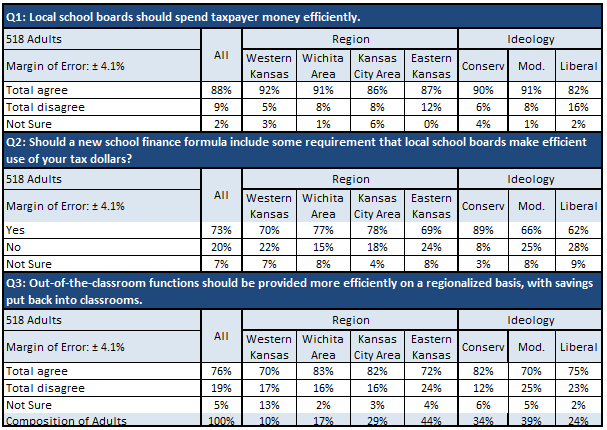 Don't raise taxes for school funding
Asked how legislators should respond if the Supreme Court orders a school funding increase, only 30 percent favor some form of tax increase while 67 percent said to take other action; 38 percent said to reallocate other state spending, 20 percent said to require more efficient school spending, 5 percent say the Legislature should fund what it deems to be adequate regardless of what the Court rules and 4 percent said to do something else.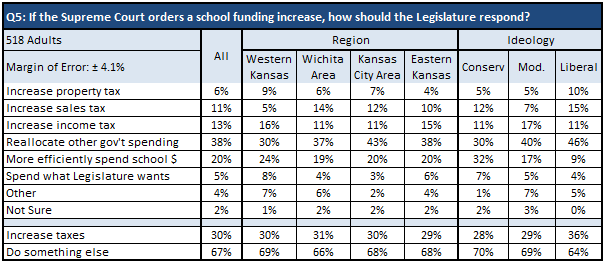 Citizens don't want the Legislature to ignore the Court, but they also don't want a court-imposed tax increase, which underscores that school funding is inherently a political matter.  They expect school districts to make efficient use of their money but there is ample evidence that that is not the case; accordingly, allocating more money for equity or adequacy amounts to unnecessary taxation (what some might say is inequitable treatment of all taxpayers) or a reduction in funding for other government functions.  The political ramifications of reducing funding for any government services, even if all that is being asked is to operate more efficiently, are severe.
Legislators must often choose between being threatened with ejection from office by the school lobby, the highway construction lobby, the social service lobby, the government union lobby, etc.  And any choice other than to raise taxes (which is obviously opposed by citizens) is met with extreme ridicule by media, which often doesn't let facts get in the way of their news and editorial attacks.   Improving outcomes and what's necessary, adequate or equitable is often of no consequence in these political decisions; in fact, one does so at one's own peril.
Let school employees vote on unions
A bill pending in the Senate would allow school employees covered by a collective bargaining agreement to hold a secret ballot vote every three years to decide whether to retain the union.  Unions and school boards are opposed to this basic voting right but citizens favor it by a margin of 68 percent to 19 percent.  Among government employees participating in the survey, 76 percent approve and only 14 percent are opposed.


Once again, legislators will have to decide whether to act in accordance with the wishes of constituents or face the political wrath of special interests, some of whom are vocal opponents of voter suppression when it meets a different political need.
Other questions
The survey asked ten questions in total, including school choice matters relating to public charter schools and education savings accounts.  More citizens expressed support for charters and ESAs than opposed, although upwards of 20 percent of respondents had no opinion.  Results for each question, complete cross-tabs and methodology are available here under March 2016 Poll Results.