Against a backdrop of public fights over availability of teacher pay raises in Wichita and Shawnee Mission, Kansas school districts have many different approaches to allocating money between pay raises, hiring more staff or spending money elsewhere.  Kansas Policy Institute collects payroll data each year from 25 school districts and shares the data on KansasOpenGov; the first ten completed this year provide multiple insights.
The 25 highest paid among those ten districts showed some large increases, some small and a few essentially unchanged.   Olathe Superintendent Marlin Berry was the highest paid among those districts at $321,945 and about 12 percent higher than last year.  No one from Pittsburg or Hays made the top 25 among those districts.  Shawnee Mission has the most members (8), followed closely by Blue Valley (7).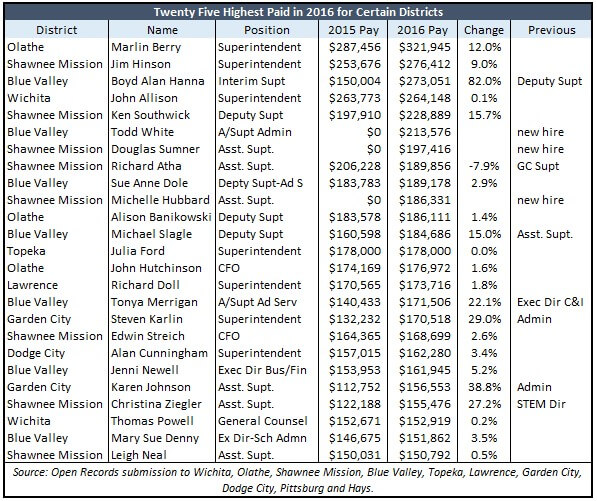 Those ten districts also show much variety in total pay changes over the last five years.  Lawrence leads the way with a 19 percent increase while Hays actually reduced payroll by nearly 14 percent.  Lawrence added 15 percent more employees over the last five years with enrollment growth of 7 percent, but Hays cut employment by 26 percent with enrollment essentially flat.
Turnover in Blue Valley, Topeka and Hays prompted superintendent pay declines, but the other districts saw relatively strong pay gains.  Pay increases for the next 25 highest paid exceeded the inflation rate of 6.6 percent in seven of the ten districts.
There is also considerable difference in the emphasis hiring teachers, managers and other non-teachers.  Wichita, for example, added 14 percent more managers while slightly reducing the number of classroom teachers; Pittsburg also added managers and many more non-teachers while reducing the number of classroom teachers.  Other districts added managers at a faster pace than classroom teachers.
Complete 2016 payroll listings for these ten districts are available here, and more districts will be added soon.