[vc_row][vc_column][vc_wp_text]The Department of Education estimates Kansas school spending will increase by $387.5 million this year and set a new per-pupil record of $13,647.  Total spending of $6.472 billion is also a new record.  The estimate was emailed to Kansas Policy Institute by KSDE Deputy Commissioner Dale Dennis this morning.
State aid will jump by $316 million this year; KSDE says roughly $195 million is attributable to funding added in the new formula and a $121 million increase in KPERS pension funding.  Federal aid is only expected to increase by $3 million but local revenue, most of which is property taxes, will increase by about $69 million.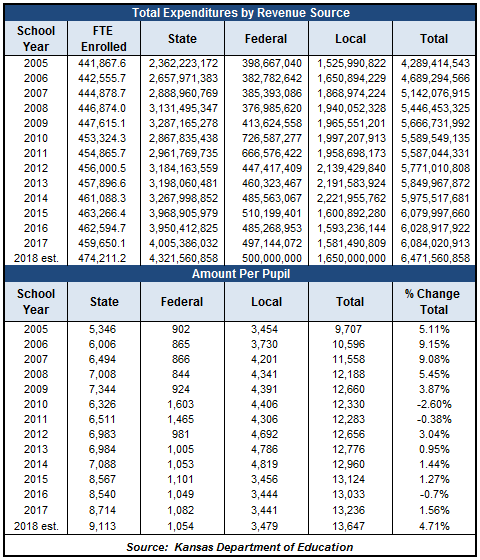 Per-pupil spending would be even higher if not for a somewhat artificial, one-time increase in full time equivalent enrollment related to funding for full day kindergarten.  Most school districts provided full day kindergarten in the past but students were counted as only half-time because funding was only provided for a half-day; districts used other funding (or a few charged tuition) to make up the difference.  The new formula provides funding for a full day of kindergarten so students now count as full time instead of half time, and the Department of Education says this change added about 15,600 students to the FTE count.  Otherwise, enrollment is expected to decline by about 1,000 students.
If full-time equivalent enrollment hadn't increased due to the change in counting kindergarten students, per-pupil spending would exceed $14,000 this year.
Even though Kansas school spending continues to set records, the Kansas Supreme Court is threatening to close schools if the Legislature doesn't appropriate upwards of $1 billion more per year.[/vc_wp_text][/vc_column][/vc_row]