An Open Records request of the Kansas City, KS Community College shows an 11 percent increase in the KCKCC pay for the fiscal year ended June 30, 2017.   The adjacent table of the 25 highest paid employees shows pay changes ranging from a 1 percent decline to a 217.8 percent increase.  Eleven of the twenty-five highest paid employees received a double-digit pay hike and four other increases were triple-digits.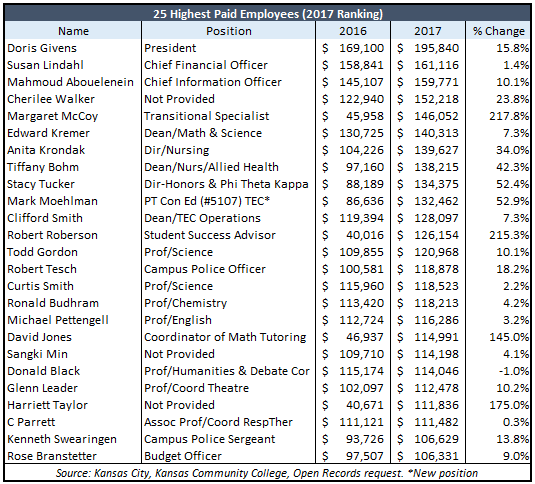 The complete payroll listing for KCKCC is available on KansasOpenGov.org.
Asked for confirmation that the 2017 large increases were accurate, Kaaren Fife, Director of Institutional Effectiveness said, "We have investigated the increases in pay you listed below.  Through this investigation we discovered the largest increases are due to employee status reclassification settlement where employees received retroactive pay due to the outcome of a lawsuit.  Additional differences are due to employees leaving the college and receiving one-time pay outs for unused sick and/or vacation leave and increases due to additional overload pay."
College president Doris Givens was placed on administrative leave with pay in July according to the Kansas City Star.  Trustees named the college's dean of math, science and computer technology, Edward Kremer, acting president.
The Star spoke with KCKCC board member Wendell Maddox, who said the decision to put Givens on paid administrative leave was made before the board talked with Givens.  Maddox said after several anonymous complaints about Givens had been made to the board, trustee chairman John D. Rios — "without consulting the full board" — launched a review into the complaints.