The Kansas Uniform Financial Accounting and Reporting Act – K.S.A. 72-8254 – passed in 2013 requires every school district to publish the budget summary for the current school year and actual expenditures for the immediately preceding two school years showing total dollars net of transfers and dollars per pupil.  The statue clearly says the report "shall be published with an easily identifiable link located on such district's website homepage."
In May 2014 I reported to a legislative committee that a random review of school district web sites showed an appallingly low compliance level with this statute and that remains true today.  KPI staff recently examined the web sites of twenty seven school districts and found just two districts – USD 443 Dodge City and USD 500 Kansas City – in compliance.  USD 470 Arkansas City provides a link but it goes to an outdated report.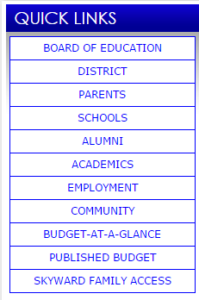 We found the required report on some sites by clicking on a series of links from the home page but that is not what is called for in statute.  This screen grab from USD 443 Dodge City shows how to provide "an easily identifiable link located on such district's website homepage."  The "Budget-At-A-Glance" link takes citizens directly to the required report.
Perhaps the Legislature should add some 'teeth' to laws that impose financial penalties on government entities for failure to comply.  Government penalizes citizens for failure to comply and should be held to its own standard.
Here's a list of all the districts from our sampling, showing total spending per-pupil for FY 2014 Actual and FY 2015 Budget.  Much more information is available on the budget summary reports, which can be found on the KSDE web site.  Scroll down to the district listings for 2014-15, click on "Budget at a Glance" for each USD and go to page 3 of the report.