Once again, the Kansas education system has been ranked in the bottom half of the states, lagging behind the nation as a whole. The 22nd annual edition of Quality Counts, a nationwide report card that provides a letter grade for each state's education system was recently released. Kansas earned an overall grade of C, with a composite score of 73.3 (on a 100-point scale). That compares unfavorably to the U.S. composite of 74.4. Kansas ranks 27th among the 50 states and D.C.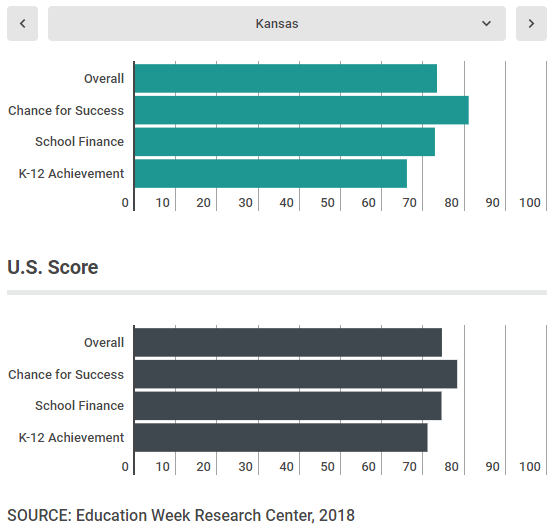 The report, produced and published by Education Week magazine, grades the states on three categories: Chance-for-success, school finance, and K-12 achievement. According to the report;
Kansas earns a B-minus in the Chance-for-Success category and ranks 19th. The average state earns a C-plus. In School Finance, Kansas receives a C and ranks 25th. For the K-12 Achievement Index, last updated in the 2016 report, it finishes 40th with a grade of D. The average state earns grades of C and C-minus in School Finance and K-12 Achievement, respectively.
In a departure from previous years, Education Week is releasing the full contents of the report in three installments. More specific data within each of the three categories will be released during the summer and fall of 2018.