[vc_row][vc_column][vc_raw_html]JTNDbWV0YSUyMHByb3BlcnR5JTNEJTIyb2clM0FpbWFnZSUyMiUyMGNvbnRlbnQlM0QlMjJodHRwcyUzQSUyRiUyRmthbnNhc3BvbGljeS5vcmclMkZ3cC1jb250ZW50JTJGdXBsb2FkcyUyRjIwMjElMkYwNSUyRkNvcHktb2YtU1RPUC5wbmclMjIlMjAlMkYlM0U=[/vc_raw_html][/vc_column][/vc_row][vc_row][vc_column][vc_column_text]School boards across Kansas are gushing about their devotion to equality and their determination to stamp out racism, but until they stop ignoring their own systemic educational discrimination for low-income kids and students of color, their words are merely political posturing.
How can Shawnee Mission school board members say they are maintaining an educational environment that's free of discrimination, knowing that White high school students are four times as likely to be on track for college and career than Black students in math?
Does the Wichita school board really think their high school kids are getting equitable and fair educational opportunities with just 5% of Black students on track for college and career, compared to 22% for White students?
USD 497 Lawrence is failing miserably in its "major goal" to "raise the achievement of all students while closing achievement / opportunity gaps."  White high school students are almost five times more likely to be on track for college and career in math than Black students, of whom only 8% are on track.  The school district is shirking its responsibility to get students at least to grade level in reading and math – 61% of black high school students, 44% of Hispanic students, and 28% of White students are below grade level in math.  Meanwhile, district administrators are bringing in consultants from San Francisco to host Courageous Conversations about Race programming seminars.
Where in Kansas are the courageous conversations about redirecting resources to at least get students to grade level?  Funding per pupil jumped 53% since 2005, districts hired managers and other non-teaching staff at more than double the rate of classroom teachers, and they started this year with almost $1 billion in leftover cash reserves.  The money is there, but there is no accountability for using resources to get students to grade level.
Since the Montoy court ruling in 2005, the Legislature has provided about $5 billion more for at-risk students, but a 2019 Legislative Post Audit found most of the at-risk funding they reviewed "was used for teachers and programs for all students and did not appear to specifically address at-risk students as required by state law."  Our 2015 study found similar results.
After a scathing editorial by the Kansas City Star, State Board of Education President Kathy Busch wrote a response that basically said, 'shut up, go away, we know what we're doing.'  But student achievement results and feedback from employers and colleges suggest otherwise.
Busch's disdain for following the law and getting students at least to grade level is shared by local school boards and administrators all across Kansas.  Just pay attention to their actions and how they spend money, not their public proclamations.
Gains in other states while Kansas goes backward
The picture for low-income kids and students of color is much brighter in states that have taken bold action to eliminate educational discrimination with robust school choice programs.
While a Wall Street Journal editorial recently congratulated Indiana "for its leadership in establishing one of America's most ambitious school voucher programs," we had to fight tooth and nail to expand the school choice program in Kansas. Attempts to mirror Indiana's education savings account opportunities for students below grade level died with a tie vote in the Senate – and never would have been signed by Governor Kelly.
Following the pioneering leads of Arizona and Florida, Indiana legislators are giving students a fighting chance, and the results are remarkable.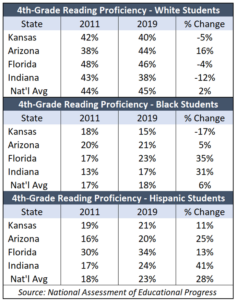 Between 2011 and 2019 (the latest data available), Indiana's black students' reading proficiency improved by 31% in the 4th grade (from 13% proficient to 17%), and Hispanic students improved by 41% (from 17% to 24%).  Arizona's black students improved from 20% proficient to 21%, and Hispanic students' proficiency jumped from 16% to 20.  Black students in Florida also had remarkable gains, going from 17% to 23% proficient, and Hispanic students improved from 30% to 34.
But proficiency for black students went backward in Kansas, declining by 17%, from 18% to just 15%.  Hispanic students' proficiency improved slightly, from 19% to 21%, but the change was much lower than Arizona, Florida, Indiana, and the national average.
Proficiency for White students in Kansas, Florida, and Indiana declined, while Arizona and the nation showed improvement.
Low college readiness levels for minorities
ACT doesn't provide results by income levels, but the race breakouts show that low proficiency in the early grades translates to even worse outcomes in high school.
Only 11% of Hispanic students who took the ACT test in Kansas last year were considered college-ready in English, Reading, Math, and Science, and just 6% of black students, while 28% of white students were college-ready.
Black and Hispanic students and low-income kids are no less capable of learning than other students; they just haven't had the same opportunities.
School choice gives kids a fighting chance
A recent national poll conducted by Real Clear Opinion Research on behalf of the American Federation of Children found 71% of voters back school choice.  An EdChoice survey in April found 64% of Americans support education savings accounts with restricted but multiple uses for educational purposes, including private tuition.
People support school choice because they know it works for students. There is no single, perfect solution to get students the opportunity they deserve but choice is a big part of the all-of-the-above effort, and the results show that it works.
But the Kansas education establishment and the teacher unions vehemently oppose school choice.  They all know that the majority of low-income kids and students of color in high school are below grade level.  They know that no more than 15% of those students are on track for college and career, and that white students and the more affluent are two to three times more likely to be on track, while audits show they aren't spending the money to help at-risk students as required by law.
That, my friends, is educational discrimination.[/vc_column_text][/vc_column][/vc_row]