At the same time courts and taxpayer-funded school lawyers claim school districts to lack adequate funding, school district cash reserves set new records last year according to the Kansas Department of Education.  Total cash reserves set a new record at just over $2 billion and each major category also set new records.  Operating cash reserves increased by $17.4 million to $928.1 million, debt reserves jumped by $50 million to $554.6 million, capital outlay reserves hit $492.1 million with a gain of $60.8 million and federal cash reserves climbed $17.8 million to a record $42.1 million.
With a few exceptions, operating cash reserve increases are the result of school districts not spending all of the state and local tax aid they receive to operate schools.  The 2017 school year saw 151 districts increase their operating reserves while 136 districts spent down some of their reserves.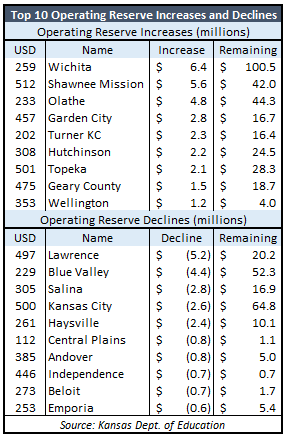 The adjacent table lists the ten largest operating cash reserves increases and declines.  Two districts among the top ten that increased their operating reserves – Wichita and Hutchinson – are plaintiffs suing for additional funding; another plaintiff, Kansas City, slightly reduced operating reserves but finished the year with $64.8 million on hand, which represents a $39.3 million increase since 2005.  The other plaintiff, Dodge City, reduced reserves by roughly $310,000 to finish the year with $14 million in the bank.
Data tracking each school district's cash reserves back to 2005 is available on KansasOpenGov.org including, trend graphs by major category and downloadable listings of major category totals and individual fund balances.