Facts keep getting in the way of the education lobby's contention that money drives academic achievement, and the 2017 National Assessment of Educational Progress (NAEP) is the latest instance. Despite spending $1,159 per-pupil less than money-focused Kansas, student-focused Florida has significantly better results.  Of the eight proficiency measurements covering two subjects and two grade levels for low income students and all others, Florida wins six, ties once and trails once.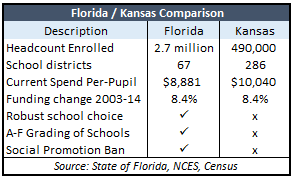 While the Kansas education lobby has been laser-focused on money for decades, Florida legislators took a student-focused approach about 20 years ago under the leadership of former Governor Jeb Bush.  Most notably, Florida has robust competition with public charter schools and multiple scholarship options for students to escape under-performing public schools.  Florida also instituted a ban on social promotion so that students aren't automatically promoted to the next grade if they aren't academically ready and their A-F school grading system shows parents how schools are really performing; instead of fuzzy labels like 'approaching standards,' Florida uses labels everyone understands – A, B, C, D and F.
By comparison, Kansas has a small tax credit scholarship program for low income kids that the education lobby and many legislators try to destroy every year.  Kansas schools, unions and their legislator friends blocked a social promotion ban a few years ago and they won't even discuss an A-F grading system.
The comparative results of Florida's student-focused philosophy versus Kansas's money-focused approach are stunning. Looking first at low income students (those eligible for free or reduced lunch), Florida wins for 4th Grade Reading (30 percent proficient vs. 24 percent), 8th Grade Reading (24 percent vs. 22 percent) and 4th Grade Math (36 percent vs. 27 percent).  Both states have 19 percent proficiency levels for 8th Grade Math.
Florida's public school gains since 2003 are even more impressive.  Reading proficiency improved roughly 60 percent in both grades and well above average growth rates for the nation and Kansas.  Florida's 8th Grade Math proficiency of 19 percent is the same as Kansas, but Kansas had no growth since 2003 while Florida had 74 percent growth.  And Florida's 4th Grade Math proficiency jumped a whopping 122 percent, from 16 percent proficient in 2003 to 36 percent proficient in 2017.
By the way, a 2011 press release from the Kansas Department of Education says NAEP comparisons since 2003 are valid and reliable.
Florida did just about as well with students who are not considered low income, winning three matchups but trailing Kansas on 8th Grade Math.  Comparing long term growth trends, Florida has superior growth over Kansas and the national average in all four categories.
Florida trailed the nation in the 1990s before implementing a variety of student-focused reforms and now their public school performance is above the national average on seven of the eight proficiency measurements, and they did it while always spending far less than the national average.  Hopefully some judges, legislators and school board members will 'go to school' on the Florida approach.