The Kansas City, Kansas school district – USD 500 – spent just 1.2 percent more on teacher pay during the 2018 school year according to data provided by the district in an Open Records request.  That's the same percentage increase for the total payroll, but there are some eye-opening outliers.
Superintendent Cynthia Lane took home an eye-popping $458,200.  That's a 97 percent increase over the previous year, which the district attributes to cashing in unused sick leave and vacation pay upon her retirement.  Another double-digit increase – 13.6 percent – went to Assistant Superintendent Robert Strickland.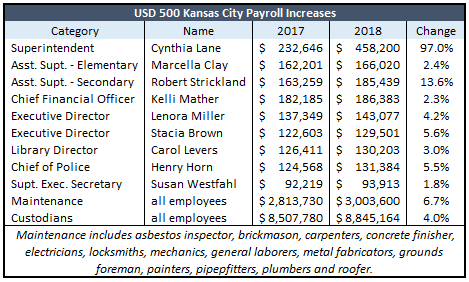 The adjacent table shows several administrators had pay gains between 3 percent and 5.6 percent.  Cynthia Lane's executive secretary only received a 1.8 percent boost, but the fact that someone in that position is paid almost $94,000 is itself remarkable.
Payroll increases in two employee categories are also noteworthy, and not just because of the size of the increase.  Spending on a small army of maintenance staff grew by 6.7 percent and custodian costs increased by 4 percent.  Both categories were cited in an efficiency audit a few years ago for having individual pay amounts well above market norms for those positions.
The complete payroll listing on KansasOpenGov shows the district apparently continues to ignore the audit's recommendations.  USD 500 lists 91 custodians that are paid more than $50,000 and the Electrician Foreman is paid almost $102,000 – to cite just a few examples.  USD 500 may also be the only school district that has its own asbestos inspector, concreate finisher, metal fabricator and roofer.
One can only imagine how teachers feel when they see these examples while their total pay went up by a measly 1.2 percent.  They should share their complaints with legislators, also, because this is what happens when legislators fail to hold schools accountable for putting resources to the most effective use.