State agencies spent a little more than $2 billion on payroll during the 2018 calendar year, and the complete Kansas payroll list by employee and position is now available at KansasOpenGov.org.  The Kansas Turnpike Authority payroll is provided separately and is available here.  Kansas Policy Institute collects the data each year in Open Records requests.
The 30 highest paid employees each work for one of the state universities.  John Tomblin, Executive Director of the National Institute for Aviation Research at Wichita State University, tops the list this year at almost $800,000.  Employees paid with privately raised funds at universities (mostly coaches) are not covered by Open Records requests, but some coaches are in the public listing.  Keitha Adams, women's basketball coach at Wichita State, made the top 30 list with income totaling $334,925.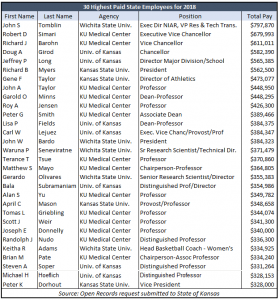 The state payroll increased by 2.4 percent last year; payroll costs at universities and the Board of Regents rose 1.9 percent, and all other state agencies increased by 2.4 percent.  The Kansas Turnpike Authority cut payroll by 1.7 percent.
Eight state agencies had double-digit increases last year
Real Estate Appraisal Board +46.8 percent
Board of Pharmacy +20 percent
Citizens Utility Rate Board +18.7 percent
Real Estate Commission +18 percent
State Fair Board +17.6 percent
Attorney General +14.1 percent
Kansas Water Office +13.6 percent
Kansas Correctional Industries +11 percent