State agencies and universities spent $2.17 billion on payroll during the 2019 calendar year, including $34.9 million on overtime.  Total pay increased by 5% and overtime jumped 15%.  Total pay and overtime for every state employee are available on KansasOpenGov.org.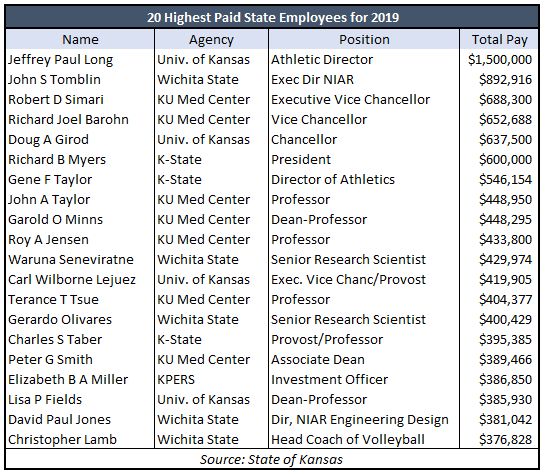 KU Athletic Director Jeff Long tops the list of the 20 highest-paid employees, at a cool $1.5 million.  Employees paid with privately raised funds at universities (mostly coaches) are not covered by Open Records requests, but some coaches are in the public listing.  Wichita State volleyball coach Chris Lamb is in the top 20, at $376,828 and WSU women's basketball coach, Keitha Adams, is not far behind at $334,652.
A few of those in the top 20 also received large pay increases.  John Tomblin, executive director of the National Institute for Aviation Research at Wichita State, got a 12% bump to $892,916.  Other double-digit pay hikes went to K-State athletic director Gene Taylor (15%), Wichita State senior research scientists Waruna Seneviratne (16%) and Gerardo Olivares (13%)
Elizabeth Miller, an investment officer at the Kansas Public Employees Retirement System (KPERS), is the only person in the top 20 who didn't work at a university, with total pay of $386,850.
Total pay in higher education increased by 5.3% to about $1.2 billion, while all other state pay was up 4.5% to about $960 million.  The most recent information from the U.S. Census Bureau shows Kansas had 36% more state workers per capita than the national average.
Overtime pay explodes in recent years
Overtime spending has dramatically increased over the last few years.  The state spent $16.9 million in 2014 and 2015, and then $19.2 million in 2016.  But following big tax increases imposed by a more left-leaning Legislature in 2017 and 2018, overtime shot up 33% in 2017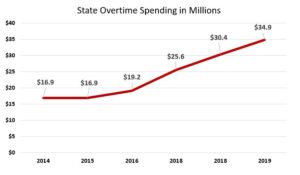 to $25.6 million.  Spending jumped again in 2018, going up 19% to $30.4 million, and last year's 15% increase set a new overtime record of $34.9 million.
Corrections workers top the list of individual overtime recipients.  A corrections officer at the Hutchinson facility took home $73,999 last year, on top of $42,165 in regular pay for total compensation of $116,164.  A registered nurse supervisor at Larned State Hospital had the second-highest overtime pay, at $59,575; with base pay of $86,252, her total pay last year was $145,827.
Agencies often say spending can't be reduced, but some overtime spending should be controllable (and was in prior years).  A program consultant in the Department of Corrections was paid $50,148 in overtime last year.  Two fire protection specialists at Kansas State University took home more than $35,000 in overtime, with total pay exceeding $90,000.  The Department for Children and Families paid $30,886 to a management analyst, whose total pay was $84,287.
Open Records
The payroll and overtime records is obtained from the state in Open Records requests each year.  Total pay by agency is provided here.  The Kansas Turnpike Authority payroll is provided separately and is also available on KansasOpenGov.org.
Each report can also be downloaded to a CSV or PDF format.