The December Labor Report from the Kansas Department of Labor shows Kansas gained 2000 private-sector jobs. This is the slowest job growth rate since July at 0.2%, and is a decrease from the updated 0.3% of the previous month. At the same rate of growth that Kansas has experienced since the start of 2021, the state will fully recover to its pre-pandemic level of jobs by around late July or early August 2022. Kansas is still 23,500 jobs below its January 2020 levels.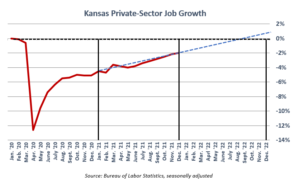 The job growth largely comes from 800 Manufacturing jobs and 1800 new jobs in commercial trade, transportation, and utilities. The biggest loss in jobs came from Health Care, which lost 700 jobs. Similarly, many industries such as finance and insurance, administration, positions, and food services lost between 100-400 jobs each. There was little to no change in Mining and Logging and Real Estate job numbers. At the same time, the state lost 1200 government jobs.
The unemployment rate in Kansas declined from 3.6% last month to 3.3%. At the same time, the labor force participation rate hit its lowest point since June of this year at 66.9% – a 0.2 percentage point drop from last month. While some may interpret the decrease in the unemployment rate as good, it should be read in the context of people stopping their job search, thereby lowering the labor force participation rate. Specifically, of the 4,949 people who left the labor force, 4,255 of them were unemployed. The number of people leaving the labor force was more than double how many private-sector jobs were created.
In her 2022 State of the State, Governor Laura Kelly touted the creation of "30,000 new jobs," without noting how many private jobs remain "lost" from pre-pandemic levels. Claims of a "booming economy" and bragging about the low unemployment rate are similarly jumping the gun. While the congratulatory speech pointed to highly subsidized investment as a sign of economic growth, the fact is that there are more average people leaving the search for jobs than there are jobs being created.
This should be kept in mind when the Department of Commerce is currently pushing for the APEX series of billion-dollar subsidies through SB 347. Instead of throwing money to unknowable businesses hoping to coax them to Kansas, the legislature should be decreasing the cost of living or providing relief to existing Kansas taxpayers and businesses in a bottom-up approach.