A new study from Center on the American Experiment shows that Kansas had positive net migration of households with incomes above $200,000 in 2014.  Author Peter J. Nelson analyzed IRS migration data of all 50 states for 2012 through 2014 in his report, which also shows a very positive shift in income migration for Kansas since income tax reform was enacted effective with the 2013 tax year.
Kansas had a small net out-migration in 2013 but was much improved over the prior year, moving from the 35th ranked state to the #24.  Migration turned positive in 2014 and Kansas moved up to #17.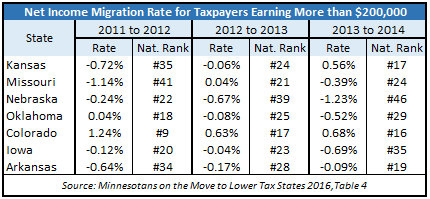 The IRS migration data was temporarily offline as this was written, but a deeper analysis will be published here once the data becomes available.