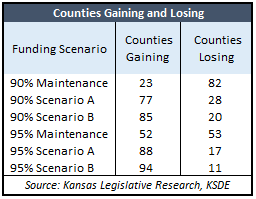 Implementing the recommendation of the WestEd Kansas school funding study to reach a 95 percent graduation rate would result in funding cuts for 53 counties even though total funding would jump by more than $400 million.  Even a $2 billion increase would cut school funding in 11 counties – Clay, Coffey, Ellis, Jackson, Kiowa, Logan, McPherson, Miami, Mitchell, Pottawatomie and Sherman.
The district-level effects of the WestEd Kansas school funding study were jointly calculated by Kansas Legislative Research and the Kansas Department of Education, using the information provided in Appendix C of the study.
A $58 million funding increase for the 90 percent graduation rate scenario would give the state's four largest counties $247.6 million more and collectively cut funding by $189.3 million elsewhere, with 82 counties losing money.  The study's scenario A with a 90 percent graduation rate would increase total funding by $1.3 billion but give 75 percent of the increase to the four largest counties; the rest of the state would divide $333.3 million but there would still be net funding declines in 28 counties and 94 school districts statewide would see funding cuts.  A downloadable spreadsheet with complete details can be found at the bottom of this article.

Some counties with net funding increases would see dramatic shifts within the county if legislators adopted the study's recommendation.  The 95 percent Maintenance scenario would provide Johnson County with a net increase of $15.4 million, four of the six districts would have funding reduced.  Blue Valley would lose $13.8 million, De Soto loses $6.4 million, Gardner Edgerton drops $7.3 million and Spring Hill loses $3.3 million, while Olathe gains $21.6 million and Shawnee Mission picks up $24.8 million.  Sedgwick County would have a net funding gain of $298 million but the Wichita district alone gets $306.3 million while five districts would have their funding reduced and four others would have tiny gains.
The absurd district-level effects of the WestEd Kansas school funding study seriously questions the validity of the authors conclusions and demonstrate why legislators should never let funding decisions be made by cost studies or judges who are influenced by cost studies.
[pdf-embedder url="https://kansaspolicy.org/wp-content/uploads/2018/04/WestEd-District-runs.pdf" title="WestEd District runs"]