[vc_row][vc_column][vc_column_text]Niche.com just released its list of the best school districts in Kansas, and they are about as reliable as a boat made of cheesecloth. School districts tout these rankings as a measure of the quality of education, as in having high proficiency levels in core subjects. But that clearly isn't the case according to state assessment results. It's more like tee ball, where everyone gets a trophy.
Only one school district among the 25 best in Kansas, as identified by Niche.com, has both reading and math proficiency above 50%, but Niche.com gives most of them an "A" for academics.  Most districts have less than 50% proficiency in both subjects, and some have proficiency levels in the 30s.  West Elk is ranked #4 in Kansas even though it has more students below grade level than are proficient.
The Niche.com methodology doesn't explain how achievement scores are weighted or even which scores are included.  But results must be graded on an extraordinarily generous curve.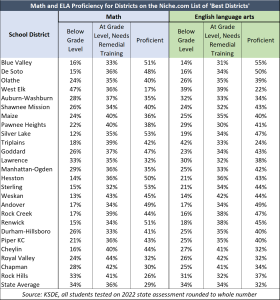 School officials perpetuate the myth of high student achievement
USD 437 Auburn-Washburn Superintendent Scott McWilliams told TKmagazine.com that his district "is known across the region for its pursuit of excellence and the success of our students."  Really? This is a district with only a third of students proficient and more than a quarter below grade level.  The high school results are even worse. In math, 39% are below grade level, and 24% are proficient; English language arts are about the same, at 38% and 28%, respectively.
State assessment results with labels and descriptions that are confusing, so our parent company, Kansas Policy Institute, translates the results into labels everyone understands: A, B, C, D, and F.  Go to "A-F Grading for Kansas Schools" to see the letter grade for every public and private school that has published results on the state assessment test.
State and local school officials deceiving parents about student achievement is the rule in Kansas, not the exception.  Our recent book, Giving Kids a Fighting Chance with School Choice, tells one story after another of school officials misleading parents, de-emphasizing academic preparation, and even ignoring state laws designed to close achievement gaps.  And that won't change until parents can send their child's state funding to the school that best meets their needs.
Senate President Ty Masterson and Speaker of the House Dan Hawkins are standing with kids and parents, but Governor Kelly aligns with the unions in staunch opposition to giving kids an equal opportunity.  They may profess to oppose discrimination, but they perpetuate race-based and income-based educational discrimination by keeping kids trapped in underperforming schools.[/vc_column_text][/vc_column][/vc_row]