There are many variations of yellow journalism.  There's the pants-on-fire type practiced by Steve Rose at the Kansas City Star and the let's-give-cover-to-government version from KWCH-TV, just to name two.  Yesterday's release of inflation-adjusted Personal Income totals by the Bureau of Economic Analysis brought forth another form: 'sensationalize-even-if-it's-misleading.'
The Wichita Eagle proclaimed "Kansans' pay increase among the nation's worst" even though the reporter clearly explained that Personal Income includes much more than what's in a paycheck, such as employers' contributions for retirement programs and health insurance,  rents, dividends, interest, farm profits and losses, nonfarm proprietors' profits and losses and even government transfer payments.  The Kansas City Star didn't bother to mention those caveats in its scathing editorial.
BEA hasn't released the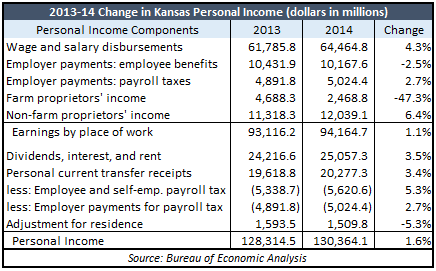 components of inflation-adjusted Personal Income but the unadjusted components provide a valid, eye-opening comparison.  Total Personal Income increased by 1.6 percent (0.5 percent adjusted for inflation per BEA) but wage and salary disbursements were up 4.3 percent.  Most people don't know that Personal Income has little to do with what they actually earn but media should take a few minutes to look up the facts before shouting negative (or positive) conclusions.
Had the Wichita Eagle and Kansas City Star bothered to look at the details, they would have known that individual Kansans' wage and salary earnings grew rather well in 2014, and that's without any consideration for declines in industries such as aerospace and agriculture.  But now that they know, we'll see if they will set the record straight and also give a begrudging hat tip to Kansas, or let their possibly politically-motivated work stand.  You see, Kansas' was ranked #29 with a 4.3 percent wage and salary disbursements growth but Missouri was #36 with an increase of 3.8 percent.