Bureau of Labor Statistics private-sector jobs numbers through Q1 2015 show Kansas continuing to become increasingly competitive with its income-taxing peers post-tax reform of 2012. First quarter job growth was a little less than the full year of 2014 (1.9%) but still more competitive than before tax reform.  Kansas' job growth was at 67% (1.52% vs. 2.27%) of the rate of its income-taxing peer states. It was at 61% of this rate prior to tax reform.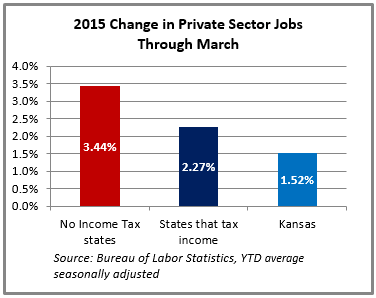 Private sector job growth is more meaningful than non-farm growth, which includes government.  The point of tax reform was to grow the private sector, not government.  After all, the health of an economy is best measured by growth in the private sector because the private sector provides the vast majority of funding to run government.
The Bureau of Labor Statistics updates prior years' data in the first quarter of each year, and the revised numbers show that Kansas did much better in two years following tax reform than in the fourteen years preceding.  Kansas was much more competitive with its income taxing peers (86% of their growth since tax reform but only 61% prior) and with the states without an income tax (55% versus 15%).