Kansas legislators return for a critical, one-day wrap-up session on Thursday, May 21 after an extended COVID-induced Spring Break.  Typically, it's mostly a ceremonial day that many legislators willfully choose to miss.  This year is different, however.  House and Senate members will be dealing with a host of serious issues related to the COVID-19 pandemic, but only if enough of them show up for work.
Majority votes are required to pass legislation, which means at least 63 of the 125 House members and 21 of 40 Senators must attend and vote.  And while it's hard to believe, a lot of Topeka insiders are wondering if enough legislators will be there on Thursday.
The legislature approved a budget in March, and some legislators say they shouldn't have to return because that's all they are only required to do by law.  Others are concerned about COVID-19 and a few might not want a recorded vote on certain legislation in an election year.
Unless legislators proactively waive pay for May 21, they will be paid regardless of whether they show up for work.
What's at stake
Taxpayers have a lot to gain next week if enough legislators show up for work – and a lot to lose if they don't.  Here are some of the most critical issues on the table, in no particular order:
— Checks and balances protecting Kansans from constitutional overreach and other actions by state and local officials.
— COVID liability protections for businesses and health care professionals.
— Oversight of $1.25 billion in federal COVID funding; without legislation, the money will be spent and allocated at the governor's discretion.
— Authorizing cities and counties to waive penalties and interest on unpaid property tax.
— Resolving unemployment insurance issues for the thousands of Kansans who still have not been able to file a claim or start collecting their benefits.
— Major property tax reform, including Truth in Taxation transparency legislation supported by 75% of voters, which requires local officials to vote on the entire property tax increase they impose.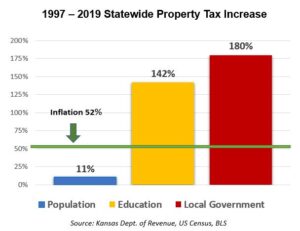 Many homeowners and business owners are struggling to pay their property taxes, and waiving penalties and interest is essential.  Cities and counties hiked property tax by 180% since 1997 – more than three times the rate of inflation.
Sales tax collections are declining due to government-mandated social distancing and shutdowns, and voters know cities and counties don't want to cut spending to make up for it.  They're afraid local officials will use the back-door tactic of raising property taxes through valuations and claim they didn't raise taxes as they've always done.
Some property owners are still being charged property tax on buildings destroyed by tornadoes last year.  Senator Kevin Braun (R – Kansas City) is fighting for legislation that would waive property tax on buildings destroyed in natural disasters.
"In Leavenworth County, we had a tornado last year that destroyed buildings and we still have owners of those [properties] that are being taxed as if the building still existed.  This is critical legislation and it would be egregious for legislators to not support it."
COVID infection rates
There is some risk that legislators could contract COVID if they show up for work in Topeka, but there's always some risk associated with
driving to Topeka.  The National Safety Council says the lifetime odds of dying in a car crash is one out of 106 or 0.94%.  That's not much different than the 1.2% official COVID mortality rate in Kansas outside of clusters tracked by the Kansas Department of Health and Environment, as shown in the adjacent table.
The actual mortality rate is likely much lower, however, because medical experts say there are large numbers of asymptomatic people who haven't been tested.  As of May 13, the official infection rate in Kansas is 0.26%.  It's even lower in Shawnee County where legislative meetings will be held, at just 0.10%; that's one-tenth of one percent.
Are your elected officials going to Topeka next week?
We can safely go to the grocery store and Home Depot, and legislators can safely attend a one-day session in Topeka where there will be extra precaution taken by state officials.
Rep. Susan Humphries is looking forward to coming back to Topeka next week.
"We plan to come back, stay safe, and address the real needs Kansans face with this health and economic crisis."
Click here for the email addresses and phone numbers for all 165 legislators, in case you want to ask your Representative and Senator if they're going to Topeka next week to address your constitutional and economic needs.
My representative, David Benson (D-Overland Park), says he won't make up his mind on attending until the middle of next week after consulting with House Minority Leader Tom Sawyer (D-Wichita).  Senate Majority Leaders Jim Denning (R-Overland Park) is my Senator; I wasn't able to reach him but he's told other senators that he'll be in Topeka next week.