City and county payrolls in the state's more populated areas grew faster than inflation in 2018.  The nine counties with comparable data listed in the adjacent table collectively had a 3.5 percent payroll increase and the ten cities with comparable data increased payroll by 3.1 percent on average.  Inflation, by comparison, was just 1.9 percent.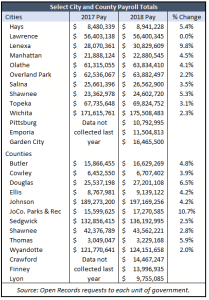 Kansas Policy Institute collects the data annually in Open Records requests and publishes the results online.  Employee payroll listings for each city can be found here and county payroll listings are here.  Government is allowed to charge a fee to provide this public data so we started with governments in the more populous counties and add a few more city and county payrolls each year.
Of the cities examined, Lenexa had the largest increase at 9.8 percent, followed by Hays (5.4 percent) and Shawnee (5.3 percent).
Douglas County had the largest increase among counties examined, with a 6.5 percent total pay hike.  Thomas County had the next highest increase (5.9 percent) followed by Butler County (4.8 percent) and Johnson County (4.7 percent).  Johnson County's increase is a combination of Parks & Recreation (which for some reason is reported separately) with a 10.7 percent hike and all other county payroll increasing 4.2 percent.
Local government can give increases and add staff because cities and counties continue to increase property taxes far in excess of inflation.  Charts showing a 20-year trend in tax hikes for all 105 counties can be found here and charts for 38 of the state's largest cities are here.
The table below lists the 25 highest paid city and county employees among the entities examined, each of whom collected more than $200,000 last year.  Overall, 753 city employees and 454 county employees collected more than $100,00. Gross pay includes all forms of pay (base, overtime, bonus, car allowance, etc.) but does not include benefits.