Payroll expenditures for the State of Kansas topped $2 billion for the first time last year and grew 4.5 percent over the previous year.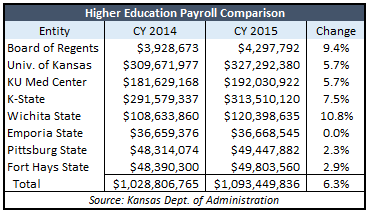 Higher education, which comprises more than half of the total, led the way with a 6.3 percent increase.  The balance of state payroll grew by 2.5 percent.
KPI collects state payroll data annually in Open Records requests and posts the full listing by employee at KansasOpenGov.org.  Employees paid with private funds (not subject to Open Records requests), such as university athletic coaches are not included.  Kansas Turnpike Authority employees are not paid through the state payroll system but their 2015 pay listing can be viewed here.
Agencies will 2015 payroll in excess of $10 million are listed individually, except for those included in the broad categories of Higher Education, Corrections and KNI/Mental Health.