The 2016 state payroll totals reflect a 2.4 percent decline from the record set in 2015 but total pay is still 2.9 percent higher than the 2013 level. The Kansas Turnpike Authority reported a 3.4 percent pay increase for 2016 but state universities and other state agencies had small declines.  Compared to 2013 levels, however, state university pay is still 7.5 percent higher; the Turnpike Authority total pay is 2 percent higher but total pay for all other state agencies is 2.2 percent lower.


Kansas Policy Institute collects calendar year data each year in Open Records requests submitted to the Kansas Department of Administration (KDOA) and the Kansas Turnpike Authority.  KDOA advises that university payroll does not include coaches and others who are paid with privately-raised funds, as such amounts are not subject to the Kansas Open Records Act.  Total pay listed for individual employees includes all forms of pay (salary, bonus, overtime, etc.) but does not include any fringe benefits.  Each employee's position and agency is reflective of the last payroll of the year; total pay for the employee is accurate but the employee may not have worked exclusively for the listed agency throughout the year.  Accordingly, total pay listed for each agency may be higher or lower than actual expenditures for each agency.
Kansas State Athletic Director John Currie took home highest-paid honors in 2016 at $775,000; Currie collected $691,731 in 2015.  The Executive Chancellor of KU Medical Center, Doug Girod, came in second at $687,000 and KU Athletic Director Sheahon Zenger came in third at $611,024. Wichita State Head Volleyball coach Christopher Lamb made the list this year at $396,449 after earning just $196,326 in 2015.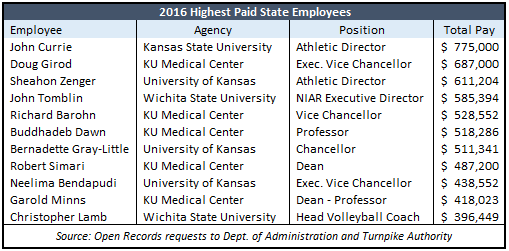 The following 2016 state payroll reports can be viewed and downloaded for further analysis on KansasOpenGov.org:
Kansas Turnpike Authority by individual (2013 to 2016)
University and other state agency total pay by individual (2009 to 2016)
Overtime by employee for universities and other state agencies (2009 to 2016)
Annual payroll totals for universities and other state agencies (2007 to 2016)