Former state budget director Duane Goossen, now employed by Kansas Action for Children, recently wrote, "The Kansas budget has been structurally unbalanced every year since the 2012/2013 tax cuts went into effect, putting the state in a highly precarious financial situation."  The state does need to resolve the structural imbalance but it's been around much longer than Goossen says.  In fact, here's the gist of his message:
'Do as I say, not as I did.'
Goossen is right to say that expenditures should not exceed recurring revenue (generally tax revenue but not transfers and other fleeting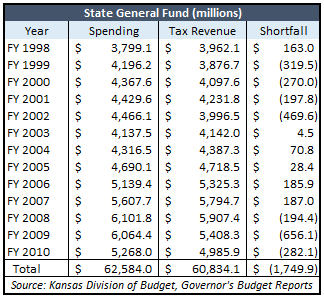 revenues), but that's exactly what happened in seven of the thirteen years he served as state budget director, and General Fund spending exceeded tax revenue by $1.7 billion under his watch.  Tax revenue increased 49 percent between 1998 and 2008 – far in excess of inflation, which was just 28 percent[i] – but the Graves/Sebelius/Parkinson administrations hiked spending by a whopping 61 percent.  So how did they make up the difference?
'Do as I say, not as I did.'
That's right…they closed the gaps with non-recurring revenue, including federal ARRA stimulus funds, federal grants, interest income, fee fund sweeps, unpredictable agency earnings and spending cash reserves.
The Goossen era not only saw reserves drop by more than $750 million, he and Governor Parkinson gave Kansas an illegal negative ending balance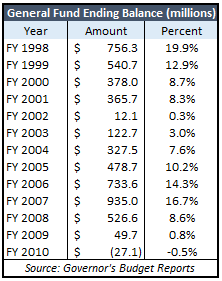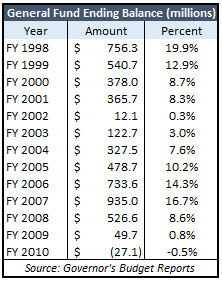 in their last full fiscal year in office!  That may be the only time in the state's history that the ending balance was negative on a cash basis, but Moody's said 2010 was "negative for a second year" on a GAAP-basis in their April 6, 2011 negative outlook for Kansas.[ii]
Just look at what Moody's had to say about actions taken under the Goossen/Parkinson/Sebelius/Graves reign:
"Weak pension funded status"
"Continued use of non-recurring measures to achieve operating budget balance"
"Repeated suspension of spending lid" (waiver of ending balance requirement."
"Reported Fiscal 2010 General Fund balance was negative for a second year"
Kansas does have a structural budget imbalance, but soaking the poor and everyone else with a $1 billion tax increase as Goossen and his employer propose is not the answer.  Kansas doesn't have a revenue problem, it has a spending problem – and need only go from being morbidly inefficient to grossly inefficient to resolve the structural budget issue and enhance economic freedom for all Kansans.
[i] Bureau of Labor Statistics, Consumer Price Index for Midwest Urban Cities on a fiscal year basis.
[ii] Generally Accepted Accounting Principles (GAAP) uses accrual accounting to include obligations made during the fiscal year weren't paid at the close of the year.