As Governor Kelly and local officials prepare to ease their COVID-19 shutdown orders, we call on them to reopen Kansas now. No more essential versus non-essential.  If a business meets reasonable safety guidelines, they should be allowed to open and serve their customers without arbitrary limits.  That's not to say that efforts taken to date to curb the impact of COVID-19 have been unnecessary or ineffective.  But the data clearly shows that one-size-fits-all orders are no longer necessary, and arguably, are not constitutionally justified.
Government officials have already tossed the Constitution aside, so these aren't idle concerns.  A federal court overturned Governor Kelly's limit on church attendance, and our own Kansas Justice Institute convinced the City of Columbus and Osage County to back off their First Amendment violations.
Every day is critical to the survival of many small employers in Kansas, who also account for the majority of employment.  We already know some of them won't survive, and upwards of a quarter of them are close to permanently closing their doors.  Ironically, even hospitals, medical staff, and critically ill patients have been harmed by government deciding what's essential.  One Salina resident was told her heart surgery was considered an elective procedure a few weeks ago; now her condition has worsened to the point that surgery is essential.  And while things like this were happening, hospitals had vacant rooms and some employees were furloughed.
It's likely that social distancing, a greater focus on hygiene, and other preventative actions helped lessen the impact of COVID and "flattened the curve." But much of that benefit was likely voluntary action and not related to government action.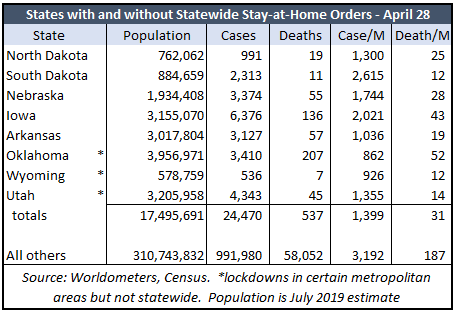 As of today, the Kansas Department of Health reports 3,738 confirmed COVID cases, which equates to 1,283 per million of population. Three states not on statewide lockdown orders – Arkansas, Oklahoma, and Wyoming – have fewer cases per million, and North Dakota, also not locked down, has about the same results, at 1,300 cases per million.
States on lockdown have more than twice the number of cases per million of population (3,192 vs. 1,399) and they have six times as many deaths per million (187 vs. 31).
The states not on lockdown have less population density, which likely accounts for some of their better outcomes compared to states with high population density.  But that also is reason to question the necessity of even partially restricting businesses from reopening in low-density states like Kansas.
The state's most populous county, Johnson, is below the state average of confirmed cases, with just 752 cases per million.  Three of the next four most populous counties – Sedgwick, Shawnee, and Douglas –  are also below the state average.  Wyandotte County is triple the state average but it has several clusters in long-term care facilities.  KCTV-5 reports that about 20% of all cases in Wyandotte County are in a single facility.
Finney, Ford, Lyon, and Seward counties have higher caseloads associated with food processing facilities, but the other 96 counties are less than half of the state average, with just 564 cases per million.
Consider this remarkable fact.  With just 454 cases in Johnson County, only eight-hundredths of one percent of residents are confirmed to be affected.  THAT'S ONLY 0.08%! Put another way, cases would have to multiply by a factor of 12 to impact one percent of Johnson County.
Seven-hundredths of one percent of Sedgwick County's population are confirmed to be infected.  Just six-hundredths of one percent in Shawnee County and only four-hundredths of a percent in Douglas County.  For this, some state and local officials are considering preventing some Kansans from earning a living and imposing one-size-fits-none limitations on certain activities.
Even though Wyandotte County's infection rate is higher than the state average, just 37-hundredths of one percent of county residents have confirmed cases.  Statewide, it's only 13-hundredths of one percent.
Is the 'cure' doing more harm than good?
Comparing the percentage of the population known to be infected with COVID with the percentage of the state that's being severely impacted economically by shutdown orders shows why some people fear the shut-down 'cure' may be doing more harm than good
Government employees have largely been held harmless by government-mandated shutdowns, but private-sector employers and individuals are being devastated.  The Kansas Department of Labor says there were over 111,000 continued unemployment claims on April 25, when there were about 3,000 confirmed COVID cases.  That means unemployment claims are 37 times the number confirmed cases, and the majority of cases don't require hospitalization.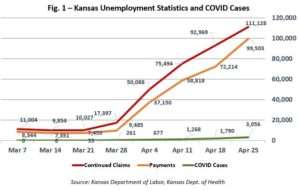 Homebase.com, a scheduling and time tracking tool used by more than 100,000 local businesses across the country, shows the economic devastation in Kansas.
Arbitrary government decisions on who and what is essential have led to a 42% decline in the number of local businesses open since the beginning of the year, and there are 37% fewer hourly employees working.
Official revenue estimates predict a $653 million state budget deficit next year, but that's based on their assumption that the COVID recession will only cause tax revenue to fall $88 million over two years.  That's less than 10% of the two-year tax decline during the Great Recession.  The real budget shortfall could easily exceed $1 billion (of an $8 billion budget), which would crush agency and education budgets or lead to more tax increases.  The revenue estimates may be in question but one thing is certain – the longer it takes to fully reopen Kansas, the deeper the economic impact will be on everyone.
Conclusion
COVID-19 needs to be taken seriously, especially by those most vulnerable – the elderly and those with compromised immune systems and other underlying health conditions.  (KDHE says the median age of those who died from COVID-19 is 81, with those over age 65 accounting for 83% of all deaths.)
Recommendations from state and local health officials are encouraged, but it's time to reopen Kansas and allow everyone to return to work now.