The Kansas Legislative Research Department (KLRD) says Governor Kelly's plan to give more than a $1 billion mega subsidy to a mystery company will create a budget deficit in FY 2026.  But the deficit will hit at least a year earlier if the mega subsidy is approved.
KLRD's standard methodology accounts for anticipated social service demands and planned school funding increases, but nothing else.  That may be the way KLRD has to function, but every legislator knows there is zero chance that all other spending will remain flat in FY 2023, FY 2024, and FY 2025.  There is also the possibility that revenue will be lower than anticipated.
Notice also the absence of Governor Kelly's proposed elimination of the state sales tax on food.  Her proposed $250 per-taxpayer rebate is also missing, which is estimated to cost $449 million in FY 2023, $482 million, in FY 2024, and $493 million in FY 2025.  If approved, the state goes into a deficit in 2024.  The rebate would move the deficit to FY 2023.
These facts represent an ugly political reality.  First, Governor Kelly's sales tax and income tax proposals are a charade.  She knows all of her budget proposals and the mega subsidy can't fit, so the $1 billion incentive was conveniently left out of her budget.  That way she gets good press for the tax cut recommendations, and if the subsidy is approved, she can use the good press from landing that deal to soften the blow from losing everything else.  If some of the tax cuts and the subsidy are approved, taxpayers will be set up for a tax increase down the road.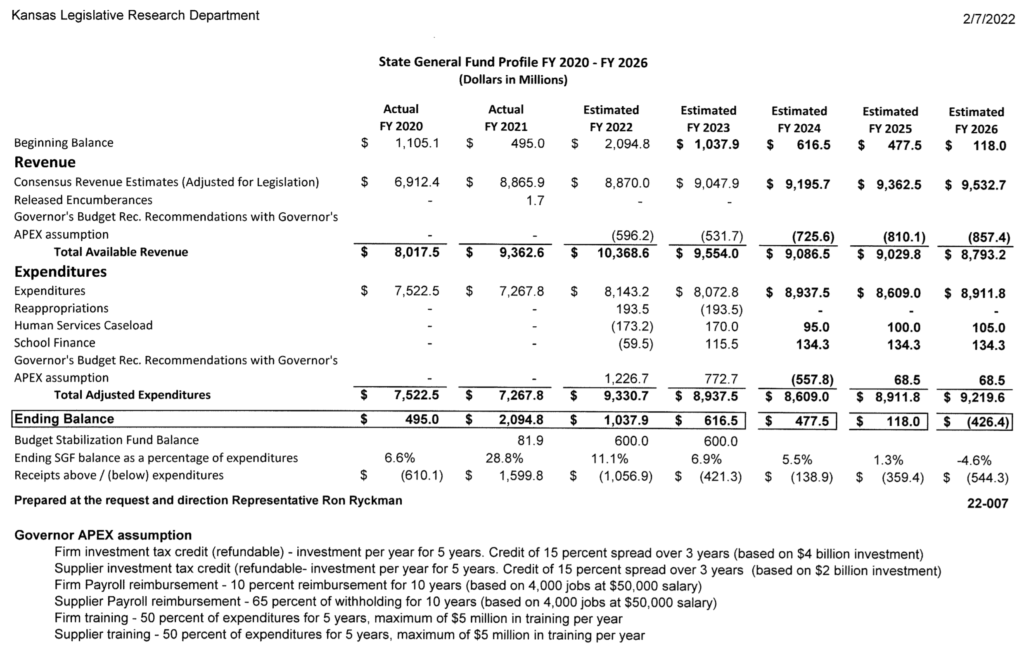 Experiments are bad until they are proposed by a Democrat
When Governor Sam Brownback called his tax plan an experiment, admittedly a poor choice of words, Laura Kelly, other Democrats, and even some Republicans criticized him heavily.  Now, this proposed $1 billion subsidy being pushed by Democrat Laura Kelly is accurately called an experiment, and those who previously opposed an experiment are all for it, as reflected in the 81-40 vote in the House.
In her interview with KSHB, Kelly said that she couldn't "think of a downside" to the venture.
Kansas taxpayers, who are struggling with overwhelming inflation and a lackluster job market and will watch record-setting budget surpluses go to one unknown business may be able to think of a few.