The government version of Einstein's supposed definition of insanity (doing the same things over and over at a much higher cost and expecting different outcomes) is the theme of Senate Bill 347 (SB 347).  State and local officials have long embraced subsidies as the primary tool for economic growth despite the fact that Kansas is in its fifth straight decade of economic stagnation. And now, Governor Laura Kelly and her Department of Commerce are attempting to give out the largest subsidy in state history.
SB 347 bill designates "megaprojects" with at least $1 billion in capital investments being eligible for billions in subsidies for building their projects in Kansas. In particular, the bill is being pushed with one unnamed company in mind who would receive a plethora of subsidies for a $4 billion investment. An investigative piece by our media outlet, The Sentinel, estimated the subsidies for a proposed $4 billion investment at nearly $2 billion, including a potential $1 billion in checks being written out of the State General Fund.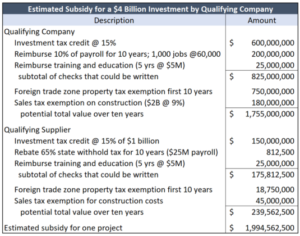 Subsidies have a poor track record in Kansas, demonstrating little additional growth outside of what would have normally occurred in a business environment.
Rather than offering subsidies to make up for the state's uncompetitive business environment, legislators and state officials should address the issues that make Kansas uncompetitive.  The Tax Foundation says Kansas has the worst effective tax rates on mature businesses, so that's a good place to start.
Our annual Green Book examination of the relationship between economic growth and the size of government shows that the states that tax less, spend less…and grow more.  Since 1998, the states without an income tax have had far superior economic growth over the states that tax productivity.  Private-sector job growth, for example, is twice as high (53% vs. 26%).
Every state provides the same basket of services, but some do so at much lower costs so they can tax less.  In 2019, the states that tax income spent 56% more per resident than the states without an income tax; Kansas spent 42% more than the states without an income tax.
Changing rates for everyone is a better investment than gambling on the success of one mystery business with tax dollars. For instance, the investment tax credit for this one company at $600 million is the same amount as the estimated state tax revenue for C-corporations from the corporate income tax. There's room in the billions of dollars of SB 347 spending for a single company's subsidies to instead reduce rates help out a local business and keep it from closing.
Excessive spending by local government is also a barrier to economic growth.  Kansas is the second-worst in the nation for local government employees per capita, and that translates to nearly $2 billion extra in property tax.
The best thing legislators can do to encourage economic growth is to remove government barriers – whether it's limiting tax burdens or streamlining regulations.