The February Labor Report from the Kansas Department of Labor shows Kansas gained 8,100 private-sector jobs. This represents a monthly job growth rate of 0.7%, which is slightly under the 0.9% growth rate in July 2021. This report contained revised numbers for previous months, bringing January 2022's total job numbers down by 15,000 and increasing the growth rate in that month to 0.6%.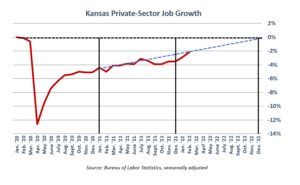 With these revised numbers, at the same growth rate that Kansas has experienced since the start of 2021, the state will fully recover to its pre-pandemic level of jobs by December of this year. However, if the fast growth rate this January and February continues, the state will see a pre-pandemic recovery by June. Kansas is still 25,400 jobs below its January 2020 levels.
The job growth was fueled by 3,200 Professional and Business Service positions, and 2,700 Trade and Transportation jobs. Construction, Manufacturing, and the Hospitality industry all saw growth between 500 and 1,000 jobs each. Financial Activities lost 600 jobs while Education and Health Services and Information jobs stayed roughly the same. At this same time, government employment in the state decreased by 1,200.
The unemployment rate in Kansas declined from 2.6% last month to 2.5% this month. At the same time, Kansas' labor force participation rate slightly increased from 66.1% to 66.2%, representing 1,085 people who are either looking for a job or quickly found one. This is good news considering two months ago, more people in Kansas were leaving the labor market as a whole than finding or searching for work.
A potential explanation for this could be the end of the omicron surge of COVID-19 in Kansas, with the number of new daily new cases dropping from 11,377 on January 10th to just 26 on March 29th. With the pandemic itself hopefully remaining in the rearview mirror, the knock-on effects of COVID remain significant hurdles. Namely, inflation has hit the highest annual level since 1983.
Inflation is an increase in prices that goes beyond simple supply shocks. Eagerness to come out of lockdown and return to a "normal" way of life has led to high demand on the part of consumers. Combine this phenomenon with the billions of dollars from the federal government to people and their local governments you have a massive demand increase for the goods and services.
Simultaneously, problems ranging from the health risks of COVID-19 itself to business restrictions – remember the days of "essential" businesses – have made it hard for suppliers to find workers, ship products, and otherwise return to pre-pandemic levels of business. This has created the headline issue of the "supply chain crisis."
The good jobs numbers in Kansas are a sign that more people are going back to work and there are more jobs being created. This means that there will be more employees helping the supply side of the economy balance out with current demand. While the news today is good, Kansas still lags behind many states around the country continuing their trend of robust job growth. While some states have already recovered and gone beyond their January 2020 job level, Kansas ranks 33rd for recovery. A change in fiscal policy will be needed to catch Kansas up in the future.