This post has been updated to correct a typo and clarify a calculation made within the body of the post.
Johnson County Community College (JCCC) payroll records—now available on KansasOpenGov.Org for the 2014-2015 and 2015-2016 school years —may raise eyebrows among students and taxpayers alike, as some JCCC staff members earn salaries that appear to be well above market averages.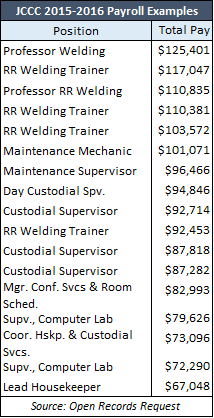 Students pay part of these excess costs in tuition, which—according to the college's 2015 financial statement —is JCCC's #2 source of revenue at $35.8 million, 19.3 percent. Johnson County employers and residents cover 44.5 percent given that local property tax is the school's #1 source of revenue. State aid comprises 16.4 percent of the institution's revenue.  The samples in the adjacent table only account for pay; benefits (including KPERS state pension) averaged 42 percent of payroll in 2015, so total costs are much higher than shown.* Getting these payroll costs under control would benefit students and taxpayers on their respective tuition and property tax bills.
Comparisons to state university payrolls can be found here. Payroll records for Kansas City Kansas Community College (KCKCC) are coming soon.
*This is calculated by dividing "Benefits" of $35.3 million into "Salaries" of $83.9 million as found on JCCC Statements of Revenues, Expenses, and Changes in Net Position, year end 30 June 2015.