Kansas Policy Institute's 2017 Lifetime Freedom Index released last week again reinforces legislators' support for economic freedom and student-focused education are not determined by party affiliation, with significant disparity between high and low scores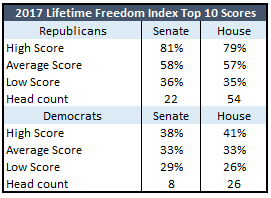 among Republicans in the House and Senate.  With 50 percent considered 'neutral' (i.e., just as likely to vote in favor as to oppose), the Senate range goes from a high of 81 percent to a low of 36 percent; the House ranges from 79 percent to 35 percent, respectively.
Scores for Democrats in both chambers are negative (below 50 percent) but there are 8 Republicans Senators and 18 Republican Representatives with negative scores.
If party politics was the dividing line, one would expect to see one party have consistently high scores and the other would have consistently low scores.  But as noted in the release of the 2017 annual Freedom Index, large numbers of Republicans had the highest and the lowest scores in both chambers.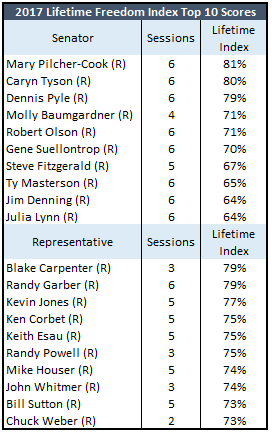 The methodology for the annual Freedom Index and the Lifetime Freedom Index is identical, except that one must serve at least two legislative sessions to be included in the Lifetime Freedom Index.  Raw scores are measured on a number line of the minimum and maximum scores for each chamber and session.  For example, if the range was negative 40 to positive 40, zero would be the midpoint and earn an index score of 50 percent.  The Freedom Index is the product of nonpartisan analysis, study, and research and is not intended to directly or indirectly endorse or oppose any candidate for public office.
The adjacent table lists the Top Ten Lifetime Scores in the House and Senate.  Mary Pilcher-Cook leads the Senate list at 81 percent and Blake Carpenter has the best score in the House at 79 percent.  Representative Pete DeGraaf would have led the House at 83 percent, but we require legislators to finish a legislative session to be included and he unfortunately had to resign during the 2017 session for health reasons.  The complete list in PDF format can be downloaded here.