Last month, Kansas gained 3,900 government jobs – almost as many as the 4,000 private-sector jobs advertised through the Panasonic megaproject and its taxpayer subsidies. Big government spending like a future megaproject can't hide Kansas's weak private sector jobs numbers.
The June Labor Report from the Kansas Department of Labor shows Kansas gain 700 private sector jobs. Updated jobs numbers for May show that private-sector jobs were 300 more than what was estimated last month; previous job numbers are routinely updated in subsequent months to reflect more accurate information. This represents a monthly job growth rate of 0.1%, but the 700 jobs gained this month weren't enough to offset the updated 900 jobs lost last month. At the same growth rate that Kansas has experienced since the start of 2021, the state will fully recover to its pre-pandemic level of jobs sometime well into 2023. Kansas is still 24,700 jobs below its January 2020 levels.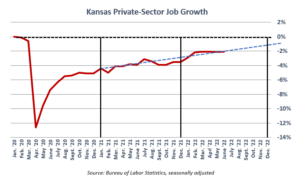 The biggest job gains came from the healthcare industry, which gained 2,000 jobs in June. Wholesale and retail trade combined gained 900 jobs, manufacturing gained 800 jobs, and the information industry had 500 new positions. At the same time, professional and business services lost 1,500 jobs. Losses of 500 jobs or less also occurred in the construction, financial activities, leisure and hospitality, and transportation industries.
The unemployment rate increased slightly from 2.3% last month to 2.4%. At the same time, Kansas's labor force participation rate remained the same at 66.5%, which is below the state's January 2020 labor force participation rate of 66.9%.
Over the last three months, Nebraska, New Jersey, and Washington have joined 16 other states across the country in completely recovering to their pre-pandemic private jobs level. Though the Panasonic jobs won't be in Kansas until the facility is ready, if they immediately showed up today, it would only put Kansas about 16% closer to getting back to its pre-pandemic level of jobs – let alone exceeding it.
The Panasonic deal is set to land in the city of De Soto in Johnson County. According to the Bureau of Labor Statistics, the non-farm job count for the Kansas City, Kansas metro area including Johnson and Wyandotte county is 10.4% higher than its January 2012 levels this month. Meanwhile, non-farm jobs in all of Kansas outside of its five largest metro areas like KCK, Wichita, and Topeka are 4.0% below their January 2012 levels. Whether it's giving away state taxes to fund megaprojects in metro areas or moving from rural towns to job hunt, this megaproject and future ones strain the rest of the state which is already struggling with job growth.
Handing out billions in corporate welfare like megaprojects to try and fix Kansas's five decades of economic stagnation is like putting a band-aid over a broken leg. Ambitious, pro-business tax reforms like addressing Kansas's highest-in-the-nation tax rates on mature businesses are key to long-term growth. States like North Carolina which have continually pursued pro-growth reforms since the early 2010s are seeing the benefits while Kansas falls behind.